Rev My Engine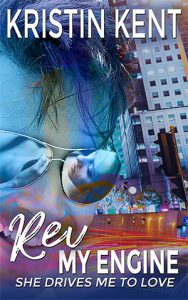 Buy the Book
About the Book
Women? I love 'em, but I'm on cruise control, with no detours for love. You see... I'm not meant for the road to happiness. Sure... I've got the looks, the money.... Hell, I've got personality in spades. However, I'm focused on running an automotive empire, with a hollow heart. She came out of nowhere, a chance meeting sparking my interest. Ignition engaged, my attraction roars to life. This woman pushes every button I have, shifting my attention from reluctant business mogul to love. Our passion and sexual chemistry ignite. But, it's only a matter of time before my past crashes into the present, and all the control I crave... I need... goes out the window.
CLICK HERE TO CHECK IT OUT ON GOODREADS!
~~~~~~~~~~~~~~~~~~~~~
Did you know my character Blair "thinks in song"? Throughout the book Blair has lyrics running through his head that fit his current situation. Here's the list of songs those lyrics come from, which fit the plot to a "T." Morgan gets into the act, once she learns Blair's thought process and adds a few of her own to this list.
MUSIC TO READ BY
BLAIR'S REV MY ENGINE PLAYLIST: